High precision metal components for the automotive industry
Improve your competitive power with high quality components at an attractive cost. We offer speedy and reliable supply of metal parts that meet all the quality criteria of the automotive industry and with a wide range of possible specifications.
At FJ Industries we have manufactured metal components for the international automotive industry for nearly fifty years, starting out in the early 1970s. Over the years we have built a lean, efficient, and reliable production and delivery setup that fits seamlessly into today's high-performing automotive sector.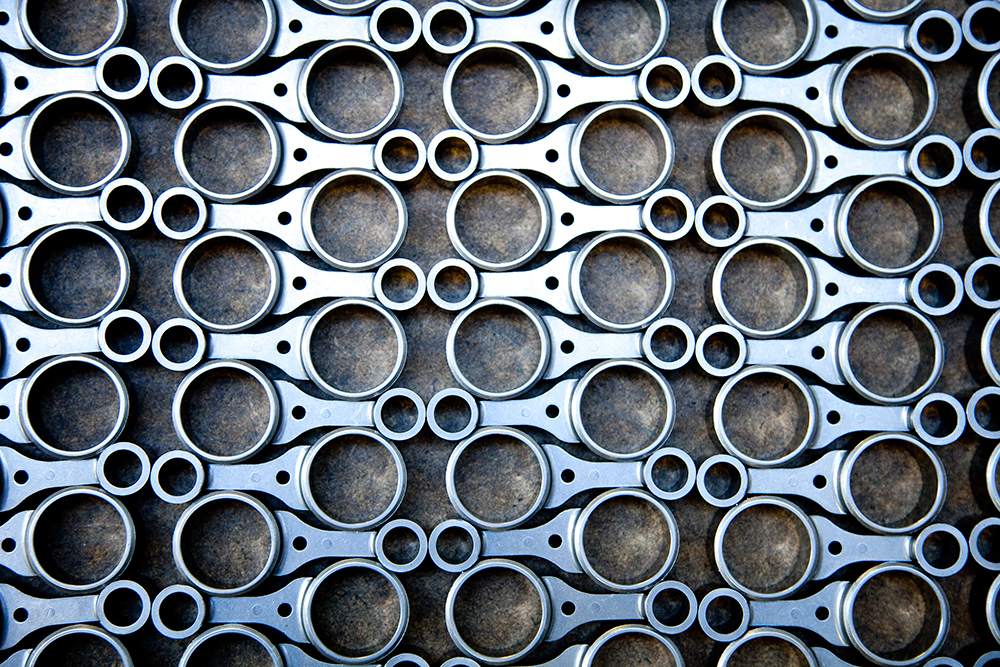 Automotive components for a wide range of applications
We manufacture high precision metal components for a wide range of automotive applications, such as:
Clean air technology (e.g. DPF systems)
Steering columns
Safety systems (e.g. airbags)
Fuel rail systems
Transmission systems
Engines
Seating
Electrical motors
Brake systems
Urea injection pumps
Doors

Diverse as these components and their applications are, they all have high quality in common.
Our production methods cover most needs
We manufacture sintered, cast and machined automotive components. These technologies enable us to meet a wide range of requests regarding dimensions, strength, and mechanical properties.
Depending on the component design, material, and other technical requirements we use investment casting or sand casting.
The investment casting process, also known as lost wax casting or precision casting, has many advantages compared to other manufacturing processes:
– Ability to produce complex and near net shape parts keeping costs at a minimum

– All steel alloys incl. ferritic and austenitic stainless steel can be produced

– Very little material waste

– Process suitable for both small and large volumes
Sand casting can be readily produced in many ferrous alloys. We cooperate with several iron and steel foundries enabling us to produce and deliver both small and large volumes. We produce parts in various alloys e.g. steel, Grey iron, Ductile iron including SiMo etc.
Our specialists possess comprehensive technical expertise and have access to the best tools and resources available. They work with advanced CNC machining facilities and all parts undergo elaborate quality control before being shipped to customers.
Most cast or forged components require a subsequent machining process. At FJ Industries we use high precision CNC machining operations on medium and high-volume components in steel, stainless steel or cast iron.
Highly skilled engineers at our plants in China and Denmark cooperate closely to develop the optimal serial production setup ensuring high process capability at low cost.
Sintering is a process where metal powder is compressed in a high-pressure mechanical, hydraulic or electric driven precision press. During compression, the part will achieve the desired geometrical shape.
Now pressed into the basic form, the part enters the sintering furnace, where it is heated and cooled in several steps in a controlled atmosphere. This process makes the metal grains sinter together in an atomic diffusion process.
After the sintering process, the part is ready for use. Or it can undergo further processes like machining, sizing, or surface treatments.
Let us show you how we can become your new and valuable supplier of metal components. Get in touch with one of our specialists – they all know the automotive business and the conditions and requirements you work under.