Powder metal parts – the cost-efficient solution to manufacture iron and steel components
If you are looking for ways to reduce costs, scale production efficiently and improve your competitive power, you should consider powder metal components.
Iron-based powder materials come with several benefits which have helped numerous companies to increase output and reduce costs at the same time. Our customers include small and large manufacturing companies in automotive, medical and many other industrial segments.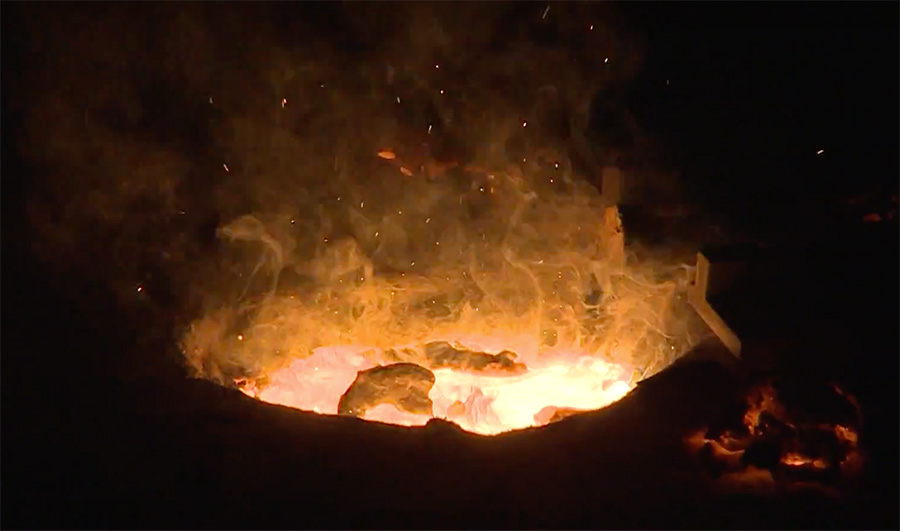 Low costs make powder metal parts competitive
Cost savings are what really make components made from powder metal unique. The process is very efficient and there is significantly low material waste compared to other technologies.
Despite initial tool costs it is often profitable to produce even small volumes. We can deliver as few as 1,000 units per year; a fact that makes powder metal components attractive for low volume as well as high volume manufacturers. We are happy to provide the advice and quotes that help you make the right decision.
Products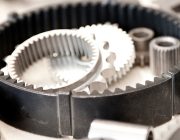 Actuators
Actuators are typically driven by a gear motor or servomotor for determining velocity and position.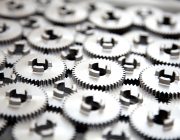 Automation
Powder metal is a suitable manufacturing method for machine components and automation.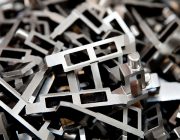 Automotive
FJ Sintermetal manufactures sintered components for the automotive industry.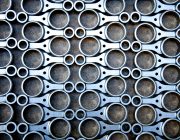 Compressors
Components for compressors typically have particular high precision requirements.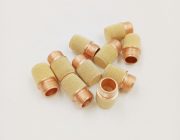 Filters
Filters produced in powder metal technology are used in many industrial applications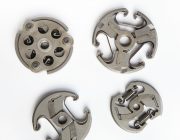 Forestry and gardening
FJ Sintermetal manufactures components for professional machines for maintenance of parks and forestry.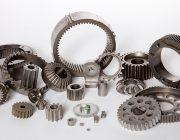 Gears
The sintering process is particularly suitable for the manufacturing of gear components.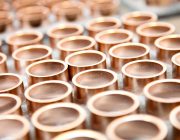 Household appliances
Powder metal components are found in many appliances and machines used in the household.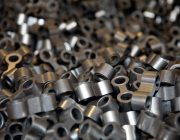 Hydraulics
FJ Sintermetal manufactures various components for hydraulic pumps.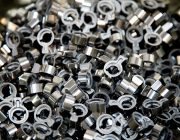 Locking systems
The powder metal process is used for manufacturing locking systems.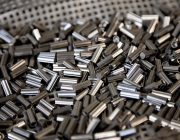 Motors
Components for electrical motors are typically manufactured in soft magnetic materials.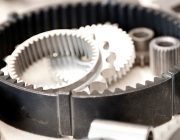 Power tools
Many tool parts can conveniently be manufactured in powder metal when requiring uniformity and narrow tolerances.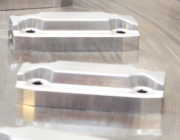 Pumps
Sintered components are often used as a basis for pump components.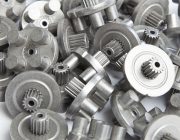 Windows
For automation of opening and closing operation of windows powder metal components are typically used as the mechanical operating element.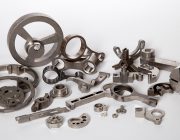 Other
The powder metal technology is a suitable manufacturing method for many components within fittings, filters and other parts designed for industrial use.
Designed with the exact properties you require
Our up-to-date technology and vast experience, enables us to manufacture powder metal components with dimensional precision, strength and durability.
We have solved challenging tasks that require complex geometry, narrow tolerances and excellent mechanical properties. As a result, powder metal has replaced traditionally processed metal parts in many production setups.
The sintering process: From metal powder to finished component
Metal powder is compressed in a specially designed high-pressure mechanical, hydraulic or electric driven precision press, typically with 6 tons/cm2.
By use of high pressure, the part will achieve the desired geometrical shape within the tool. Post-press parts are called "green" parts.
The green part is transported to a sintering furnace, where the part is heated up to the sintering temperature  and cooled down, in a controlled gas protected atmosphere. The sintering temperature is below the base melting temperature of the material. The powder grains are sintered together in an atomic diffusion process.
After the sintering process, the part is ready for use – or it can undergo further processes like machining, sizing or surface treatments.
Development and cooperation
Already from the initial contact with FJ Industries you will get access to our wide range of know-how in manufacturing of your specific component. We will guide you all the way through the selection of manufacturing process and materials.
FJ Industries knows that your key focus is consistent quality at lowest possible costs and when production is running, we will make sure to fullfill your demands on time every time.
Requirements for component properties determine powder mixture
The powder used in manufacturing sintered parts comprises a base powder to which lubricant and possibly alloying elements have been added.
The base powder is either a non-alloy or an alloyed steel powder, a stainless steel powder, or a bronze powder.
The exact composition of the powder is determined by the specific component requirements.
FJ Industries will formulate the powder combination in-house or in cooperation with our raw material suppliers.


In-house tool design and manufacturing
Making tools for powder pressing is very delicate and only for highly trained professionals.
FJ Industries has very skilled and experienced tool designers and tool makers in-house and our know-how in this field is superior.
In-house tool design and manufacturing make the time from initial contact to production short and we don't have to seek external advice to provide you with a professional and cost efficient solution.
First the cavity (single or multi cavity) in the tool is automatically filled with a precision-measured quantity of powder. Then the powder mixture is pressed (500 – 700 Mpa), and the specific shape of the part is created by several moving tool parts.
The extreme pressing binds the powder grains mechanically, and the high pressure results in cold welding where the grains are in contact with each other.
Now we have what is known as a green metal powder part, and the part is than ejected from the tool and led away, after which the next filling takes place.
Sintering – a precision balanced temperature and time sequence
After pressing, the parts are sintered. Sintering is carried out in a continuous belt furnace that is heated to a temperature which causes the particles of the powder mixture to sinter together.
Both sintering and the subsequent cooling are carried out in a protective gas atmosphere. The furnace comprises three zones:
– the incineration zone, the sintering zone and the cooling zone.
The lubricant melts/evaporates at temperatures between 400-700° Celsius, so it has no influence on the sintering process itself.
The particles are sintered to form a cohesive unit at a temperature below the melting point of the material. During sintering the metallurgic properties of the part are adjusted by carefully controlling the atmosphere, time, temperature, and cooling rate. This ensures that the properties fulfill the requirements for the individual component.
To avoid damage due to oxidation of the parts when they leave the furnace, they are cooled in a controlled atmosphere. The strength of the sintered parts correspond to those of solid metal parts. If required, and depending on the use the part is intended for, sintered parts can be machined and treated in exactly the same way as solid metal parts, and we offer all traditional subsequent processes.
The sintered parts are ready for use when they leave the furnace. But we carry out additional treatment if required.
The list of additional treatment that we carry out;
Deburring – removing burrs and make a smooth surface
Coining and sizing – improving tolerances
Grinding and polishing – reducing surface roughness and improving tolerances
Machining – making threads and shapes which are not possible by pressing
Galvanizing – protection against corrosion
Heat treatment – improving hardness and strength
Oil impregnation – integrated lubricant
Painting – changing surface color
Welding and brazing – joining methods
Plastic impregnation – closing porosity
Steam treatment (black oxidizing) – closing porosity, increases surface hardness and changing color (black)
CO2 based cleaning – dry cleaning with supercritical carbon dioxide
We know that many of our customers prefer to place as many processes as possible with a single supplier. Regarding the additional treatments that we do not have in-house, we have very reliabale and highly qualified suppliers and we can offer you a turn key solution.
We carry out ongoing quality improvements in order to meet the demands of our customers and the market. Employees are included at all levels, on the basis of the philosophy that quality assurance is everybody's responsibility. The quality department has a state-of-the-art monitoring laboratory at its disposal where methods for process and final control are established based on analytical measurements and capability analysis.
FJ Industries is used to handling customer specific quality requirements and PPAP documentation is often part of our work.
Quality is a key issue within our business and you are always welcome to book a visit at one of our plants.
The materials: Iron, steel, stainless steel, copper, bronze and soft magnetic materials
The choice of metal powder depends on the design and application of the final component.
We continuously discover new applications for sintered metal parts and new benefits from the process. Do not hesitate to contact us if you have questions concerning choice of material for your component.